InfoSafe Plus (Pocket PC)
4.1.2
Includes PC Companion! Manage usernames, passwords, PINs, accounts, logins, MORE! Data encryption, password protected, random password generator, special security options.
Last update
20 Mar. 2006
Licence
Free to try |

$24.99
OS Support
Mobile
Downloads
Total: 193 | Last week: 1
Ranking
#55 in Utilities
Publisher
Wakefieldsoft, Llc
InfoSafe Plus (Pocket PC) Publisher's Description
InfoSafe Plus™ is your complete secure information management software for Pocket PC or Windows Mobile handheld PDAs, and it includes PC companion software! Keep track and organize usernames, passwords, website logins, ID numbers, serial numbers, software codes, insurance info, bank accounts, credit cards, PINs, calling cards and much more. Includes password protection, data encryption, random password generator, special security options, customizable categories and fields, and MUCH MORE!
Now includes full support for ActiveSync data merge!
InfoSafe™ has a simple and straightforward interface, and offers numerous useful features, including:
PC Companion Software - Included for easy access to InfoSafe™ data on your desktop, including import, export, printing, and more!
Password Generator - generate random passwords quicky, choose length and characters included, paste into other applications. * NEW *
Comprehensive Field List - Ten customizable fields allow for detailed information for each record.
Customizable Master Lists - Define your own list of categories and custom field labels for easy dropdown access.
Extra security options - Specify a password entry delay after so many failed attempts, specify to destroy data after so many failed attempts.
Import - Export Records - Import and export records from tab and comma delimited (CSV) files for convenient conversion from other applications.
Password Protection - optional password protection prevents other people from viewing your data.
Security - Your password is not stored on the handheld or PC, and all Info Safe data is encrypted, even during hotsync, for solid security.
Much More - Download the free trial to see all of the features!
Easy to use, fast interface allows records to be quickly located.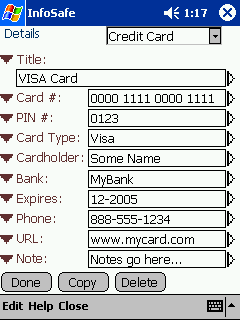 Ten fields to store complete details, customize the category templates if desired.
Secure password protection, with a quick-entry password screen.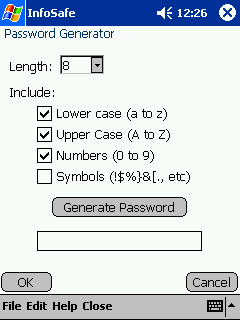 Quickly generate random passwords for use in InfoSafe or pate into other apps. * NEW *
Special security options to enable a password delay and data destruction if someone tries to break in.

Includes PC companion software for easy data entry. Also, from the PC software, you can print, import, export, and more.

View the Getting Started Guide
Download our free trial version today!
See for yourself how easy it is to use, and try out all of the features. Then, after purchasing, we will send a registration code to enable the trial version to be fully functional. You will not have to install again after purchasing. It is that easy!
Look for Similar Items by Category
Feedback